As we all know things get a little crazy during this time of year. We start making lists of things to do and things to buy; it seems like these lists never end! In the most recent years I have tried with all my heart to really focus on Christ (not that I don't during the other months of the year!). I try not to feel overwhelmed about what the world has tried to make Christmas about (the best deals for the best gifts). Don't get me wrong I do love to give gifts during this season, but I personally want to make Christ my number one priority. As a mom of three boys, who are always excited about Christmas (what child isn't) I try to keep there focus and hearts on Christ. I want them to understand what it is that we are really celebrating.
With that said I want to share with you some things I am personally doing or have done during this time of year. I really love this time of year and even more I love when my itty bitty family grows closer to each other and to Christ.
For us Mommas:
Advent Study
: Keeping Our Hearts Focused on Jesus by
GoodMoringGirls
Really excited about this 4 week study. If you have done any of the Bible studies with Good Morning Girls you will not want to miss this one. You seriously grow so much in the Word!
For our Kids: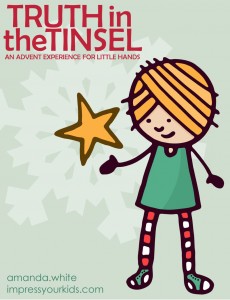 (Affiliate Links)
I did this last year with my boys and they really enjoyed it. This is a great way to teach them about Christ and the reason why we celebrate Christmas. There are crafts that you make each day. It really is a lot of fun. Here are some pictures of last year :
One week before Christmas one of my boys would one a box and we would listen to a part of the story. We would try to make it super exciting until the final day. On Christmas they discover God wants them! It really is great to see my boys excited about Christ!
25 JESUS CENTERED CHRISTMAS BOOKS
Something new I will be doing this year is reading a book a day. This is such a wonderful list of 25 Jesus - Centered Christmas Books.
Another idea to go with it is this one:
Wrapping each book! I will have the boys unwrap a book a night and this will be our family time together. On some nights we double up being that we are in ministry and some nights we get home late form church. Either way I can't wait!!
I recently received this wonderful Advent Tabletop Devotional from Dayspring to review. When I opened it I knew exactly when and how I was going to use it. I am really excited about this devotional because it really is so easy to use and I can do this with my boys over breakfast. It really is a great way to start our mornings.
(Affiliate Links)
Each day has a scripture to read and then a question at the bottom. I will read and discuss with my boys over breakfast. I will try to simplify the questions for them, but either way it will be a great way to start our mornings together.
This is what I have planned ... so far! I hope you have, in some way, been inspired!
For His Glory and By His Grace,
Monica
LINKED UP TO BLOGS ON "LINK UP" TAB ABOVE!