I have been so busy lately with my boys, schooling, ministry and have had so many ideas about how I want to celebrate and teach my boys about the Resurrection. I wish I could do all of them but that probably won't happen!! So I came up with a last minute list that I thought I could share with all of you. I hope it helps!!

Easter Garden
So one thing that I am doing today is this. I already made one last week and nothing has grown... so we are doing a do over!!
For Homeschooling Mommas I highly recommend
Homeschool Creations
. There a lot of great ideas and encouragement here. Check it out!!
Family Time
This is something you can do as a family. I like that I will be focusing on the last days before Easter. I will be reading passages and most likely renacting them or explaining them to our boys. If you haven't heard of Thriving Family Magazine - IT IS WONDERFUL!! It is by Focus on the Family.
Thriving Family Magazine - Easter Activities
In the Kitchen - Resurrection Cookies
I plan on being in the kitchen with my boys on Friday. We will be making these Resurrection Cookies
You can find the recipe at
The Alabaster Jar.
Jolene Engle is a wonderful woman of God. On the post she has many other ideas to do. Her blog is wonderful!!
Mini- Movie
I believe that visuals are so important for a child to grasp the meaning of anything - at least for my boys it's a must!! So I thought of sharing this 3 minute video with them. The greatest part is that it is narrated by two little girls. It is a must see!!
Worship House Kids - A Very Special Sunday
Momma Reads
Here is a list of recommended reading. I love to read... especially when I have time!!! So I thought I would share this as well.
Focus on the Family - Do your Children Understand Easter?
THIS BOOK IS A MUST ! The illustrations are beautiful!
You can try looking for it at your local library or on Amazon.
He is Alive! Helen Haidle - Amazon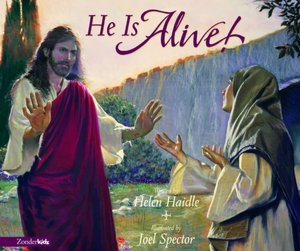 Easter Family Celebration Schedule
Resurrection Garden

Re-Enact the Washing of the Feet

Explain the importance of serving others

Friday

Resurrection Cookies

Re-enact the Laster Supper

Explain and share the Communion

Saturday

A Very Special Sunday Movie

Read He is Alive!

Family Time!

Look at our Resurrection Garden and Celebrate

Bite into our Resurrection Cookies!

Celebrate with our brothers and sisters in Christ at church!
I will be putting up a new "page" on my blog for Sunday School Teachers. I myself am a Sunday School Teacher and the Director of Children's Ministry at our church. I would love to get some feed back as to how many Sunday School Teachers follow and what kind of help/ideas you would like - crafts, lessons, discipline, etc. I love to help!!! So please just leave me a comment and I will respond ASAP!! If you know of any other Sunday School Teachers spread the word to follow along!!
I hope pray and hope you have a BLESSED EASTER, celebrating in teaching God's AMAZING LOVE!!
By His GRACE,
Monica
Linked up to the Blogs on the LEFT!!!